We specialise in Ideal Saddles and Ideal's "Designed to Order" service.
We supply and fit Ideal Saddles for customers UKwide and WORLDwide.
We bring to you dedicated, personal service, experience and expertise.
Made in the UK, Fitted & Supplied Worldwide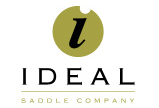 Ideal is a market leader in the design and manufacture of fine English saddles and member of The Society of Master Saddlers. Based in Walsall, the home of English saddles, we believe the Ideal range offers unrivalled choice, quality and flexibility at an excellent price.
Ideal also offer a Designed to Order service. This service is growing in popularity and  it is our speciality.


You can have the best of both worlds: A saddle from a major, innovative British manufacturer plus an individual specification for you and your horse.
We would be delighted to help and give you our thoughts, ideas and advice.
Ideal FWB VSD
A breakthrough in design for the ultra wide
Ideal Suzannah Monoflap Dressage Saddle
Monoflap version of the best selling Suzannah
Ideal Styletta Dressage Saddle
New from Ideal and WRS. the Styletta is modern design at its very best.
Technical & Traditional (T&T)
Adjustable Monoflap XC Jump Saddle. Ideal's superb quality together with their new Ergonomic Gullet Plate System